Translate original post with Google Translate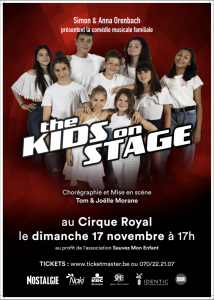 Leurs chorégraphies ont été vus dans les 4 coins du monde et ils ont une voix a en coupé le souffle..
The Kids on Stage ou autrement dit les stars de The Voice Kids seront au cirque royal de Bruxelles ce 17 novembre!
Comme il est primordial pour nous que nos clients soient satisfaits, nous vous avons déniché une réduction de €5,00 sur le ticket d'entrée!
(Soit €25,00 au lieu de €30,00 en catégorie 1 ou €20,00 au lieu de €25,00 en catégorie 2)Contact tickets:
Anna Orenbach: 0495 57 96 97.
Les tickets sont a récupérer au Kids Fantasy Land après l'achat
Posté par Kids Fantasy Land |
Laisser un commentaire