Info
Rates / Admission fees
9,50 € toddlers and kids until 12 years old
Subscription 10 entries : 76,00 € (instead of 95,00 €)
Parents for free !
Sorry, no bank cards or credit cards
Schedule
Wednesday : 12:00 > 19:00
Friday : 15:00 > 19:00
Saturday, sunday et school holidays : 10:00 > 19:00
More than 23° in july & august : closed
closed December 24th, 25th, 31th and January 1st
Access
Regulations
In order to spend a good time at "The Kids Fantasy Land", we ask the guides/relatives and the children to acquaint and to respect the following rules:
The children are under the responsibility of the guides / relatives, you thus have to foresee a number (guides) being enough for the group. The co-workers of the Kids Fantasy Land are not nannies nor guards.
All the children must be provided with socks by measure of hygiene, otherwise the access will be forbidden.
The age and the capacity indicated on every playground must be respected.
It is forbidden to eat or to drink in playgrounds.
Jewels and accessories are forbidden in playgrounds.
It is forbidden to climb on the nets of playgrounds and walls of the inflatable castles, to go(take) up on slides the other way around, to take(bring) out the mobile games(sets) of their park.
It is forbidden to bring drinks, meal and snack in the park, a cafeteria is at your disposal.
For safety reasons, it is forbidden to run(roam) in the space reserved for the cafeteria.
Animals are forbidden.
The direction(management) is responsible on no account in case of theft.
You authorize us to make shooting of you and children who accompany you and authorize the distribution(broadcasting) of all or any of the video and sound recordings realized as well as film, videogram, photo or multimedia product who would arise from it.
The respect for all the persons and the present goods(properties) in the Kids Fantasy Land is essential.
The direction(management) reserves the right of exclusion from the plain of the plain of games(sets) without refund(repayment) to every person who behaves in a undisciplined way.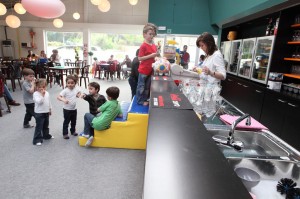 The team of the Kids Fantasy Land thanks you and wishes you a pleasant stay.